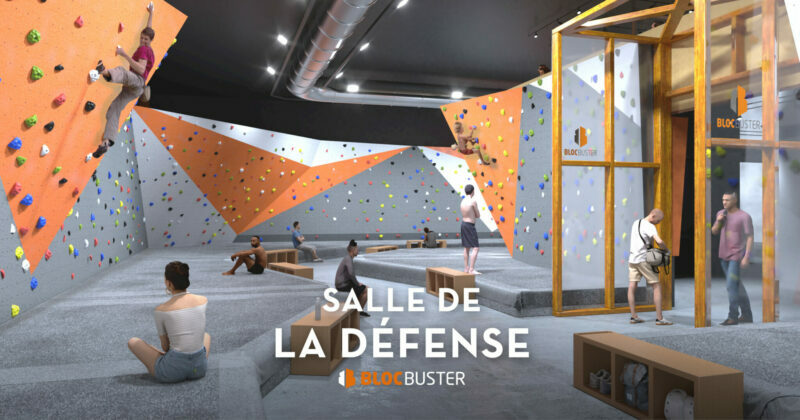 We are finally got an opening date for Blocbuster La Défense… and some previews of the future climbing centre! 🔥
So, it is official, Blocbuster will welcome you on Saturday, the 20 th of August 2022, so just a little more patience… but that gives us time to prepare a nice venue for you, and for (almost) everyone to be back from their holidays 😄
THE FACILITY
👉 Our future climbing hall, located precisely in the Square des Corolles, will be more than 900m 2 with many routes, on about twenty areas, for your greatest pleasure!
You will also discover a chill & eat area with our restaurant and a view on the climbing walls. There will also be the traditional sauna, a fitness area to warm up and a training area.
It will be easily accessible with line 1 from the "Esplanade" or "La Défense Grande Arche" station, or with the RER A, as well as the L/U line and the T2.
SUBSCRIPTIONS
👉 Quarterly and annual subscriptions, as well as booklets, will of course be valid in our new climbing hall.
As a reminder, in view of the future increase in rates, linked to the opening of our new centres, you still have the possibility to take out a quarterly or annual subscription in advance, at the current rate, until the opening. You can of course combine this with your current subscriptions.
Now is the time to take advantage of it 😉
CLASSES
👉 Also, registrations for teenager & adult classes are open.
While waiting for the update on the courses page, here are the course schedules:
🔸 Monday evening
• Adults, from 8 p.m. to 9.30 p.m.
🔸Wednesday & Friday evenings
• Teenagers (14-18), from 6 p.m. to 7.30 p.m.
• Adults, from 8 p.m. to 9.30 p.m.
We are thrilled and cannot wait to welcome you in this new Blocbuster centre, we will soon show you more about the progress of the work!
PS > We will tell you more in our next publication about our famous third Blocbuster climbing centre 🤫